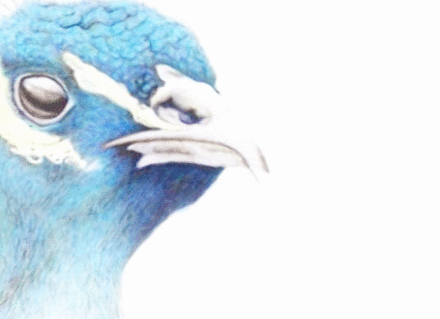 IN CERTAIN AMOUNTS OF SUN
4′ 26", color, 4/3, cel animation (415 hand drawings) and digitally edit VHS footage and slides projections, 2013
Directed by Sara Bonaventura
Official video for Dimitris Papadatos aka KU, from the album "Feathers", on Inner Ear Records
Ku is the king; but it's also the big bird of the Yaquis legend, the maya Hunab-ku, the cosmic butterfly, the black hole… and also the ku band, microwaves primarily used for satellite space shuttles' communications. Birds are here very protagonists, also due to the album's title, with all their magical and symbolic powers: eagle stands for sun/zeus, authority, strength, but also shamanism; peacock symbolizes stars/fire, eyes/immortality, but also vanity, and owl, the lonely wise one, relates to darkness/night/Great Mysteries, but also to Athena. "The owls are not what they seem".
Featured On/Screenings:
Corte dei corti, Udine (IT), 2015
Artribune Magazine (IT), 2014
Frizzifrizzi Magazine (IT), 2014
Lago Film Fest, Revine Lago, 2014 (IT) – REGIONE VENETO AWARD
Spazio Barnum, Bologna (IT), 2014
Son of marketing (IT), 2013
You need to hear this – VICE NOISEY & PHILIPS, 2013
Lyrics by Dimitris Papadatos
Halo of bells on my wife
There's a time I feel high
Yellow ways don't mind
Yellow ways of mine
Hell of dogs held high
Hello ducks held high
While my heel wants tight
While my kill won't sigh
Bite my wall as I grow high
Hold my door as I grow high
Well old me is gone high
Well old me is gone.