Multiple versions of a choreography performed by Annamaria Ajmone and processed during a residency at Signal Culture,
using analog synthesizers. Voltage controlled oscillators and patches give way to an endless dance of colors
(Several vintage video synthesizers such as the Hearn Videolab and Jones Raster Scan).
The premiere version was exhibited site specifically as a triptych for my solo show, Come se il colore stesse a guardarti,
at Adiacenze gallery in Bologna. The sound design is by the Italian composer Caterina Barbieri.
Featured On/Screenings:
Much of a person's energy is radiated away…, curated by 100_Ve, Palazzo Re Enzo – Mockjungle w Art City Bologna (IT), 2022
Spectrum Optica, Sumonar Festival 2021, Jogjakarta (ID), 2021
EP7, Exposition numérique sur la façade, Paris (FR), 2021
Performing Media Festival [PMF~ 2020], curated by Ryan Olivier & Eric Souther, South Bend (US), 2020
Pink Noise, curated by Sarah Turner, Holocene, Portland (US), 2019
DIGITAL ART International Festival, Sofia (BG), 2019
VAST LAB experimental festival, Burbank – California (US), 2019
PLAY Videoarte, 8th edition, in Corrientes, (AR), 2019
Open Screen, Echo Park Film Center, Los Angeles (US), 2019
57th Ann Arbor Film Festival, Off the Screen!, Ann Arbor (US), 2019
International Video Art Forum, Saudi Arabian society for culture and arts, Dammam (SA), 2018
shortlisted for the International Competition for Intermedia Artwork 2018, Kraków (PL), 2018
ID.Y Fest, Dance Base – National Centre for Dance, Edinburgh (UK), 2018
ikonoTV & Pool Festival, POOL Videodance Night, Berlin (DE), 2018
12° MIVSC – São Carlos Videodance Festival, São Carlos (BR), 2018
Screen@SAB, UMass – University of Massachusetts, Amherst (US), 2018
Asolo Art Film Festival, Asolo (IT), 2018
NOLI ME TANGERE Exhibition, Gallery Nikola I – Museum JU, Niksic (ME), 2018
Milwaukee Underground Film Festival, Milwaukee (US), 2018
ALL NUIT LONG VIDÉODANSE re(MIX), Nuit blanche à Montréal, Studio 303, Montréal (CA), 2018
Trans(m)it: Movement in film, London (UK), 2017
Transient Visions: Festival of the Moving Image, Johnson City, NY (US), 2017
ScreenDance Meeting in Venice and London, (IT-UK), 2017
Here Comes Everybody, Experimental Public Access show, Broadcast in Los Angeles,
Berkeley, Portland, Olympia, Seattle & Chicago (US), 2017
Blockbuster Video, Pittsburgh (US), 2017
International Video Dance Festival of Burgundy, Le Creusot (FR), 2017
Lago Film Fest, Revine Lago (IT), 2017
Moving Bodies and Live Art Festival, Torino (IT), 2017
Adiacenze, Bologna (IT), 2017
The video presents a body that has been triplicated and entangled in a network of exterior conditionings.
The perceptual value of the same choreographic action changes as the colour changes.
The choreography starts from simple and minimal geometric gestures and eventually rise to a small climax,
in which movements have been fluidified, affected by a porous, contagious, wrinkled and always in movement reality,
an endless flood of small folds, a spectrum of entanglements in which the body is immersed.
The premiere display was a triptych, a device that is a reference to the sacred art but it is referred etymologically to the fold:
the truth lays between the folds which are replicated to infinity.
According to Deleuze the fold is a metaphor, of the formation of a soul and a contemporary consciousness.
"It is a multiplicity that is being bended and explained, and it is up to us and our ability to conceive it and to try explaining it" (Deleuze)
The work has been installed in several multi channel versions, up to 13 channels.
View this post on Instagram
For the premiere in Bologna, in the basement exhibiting space of Adiacenze a fully immersive part of the exhibition gave way to the possibility
of entering the screen: the spectator was fully surrounded and integrated as a co-protagonist of the work.
During the opening Annamaria, who had been transformed into an electronic image in the video,
re-enacted the performance embodying this possibility, captured by a closed circuit camera
at the ground floor streaming live what was unexpectedly happening in the basement.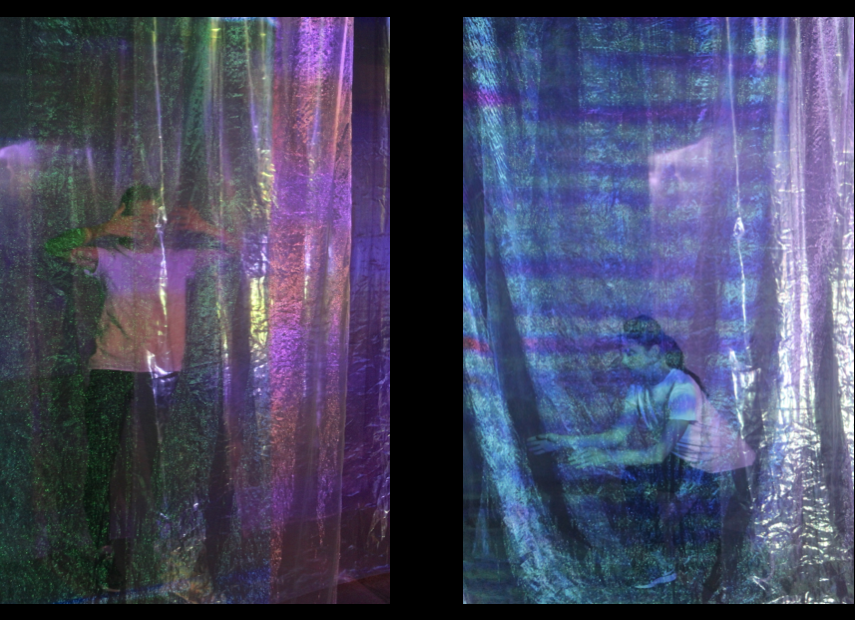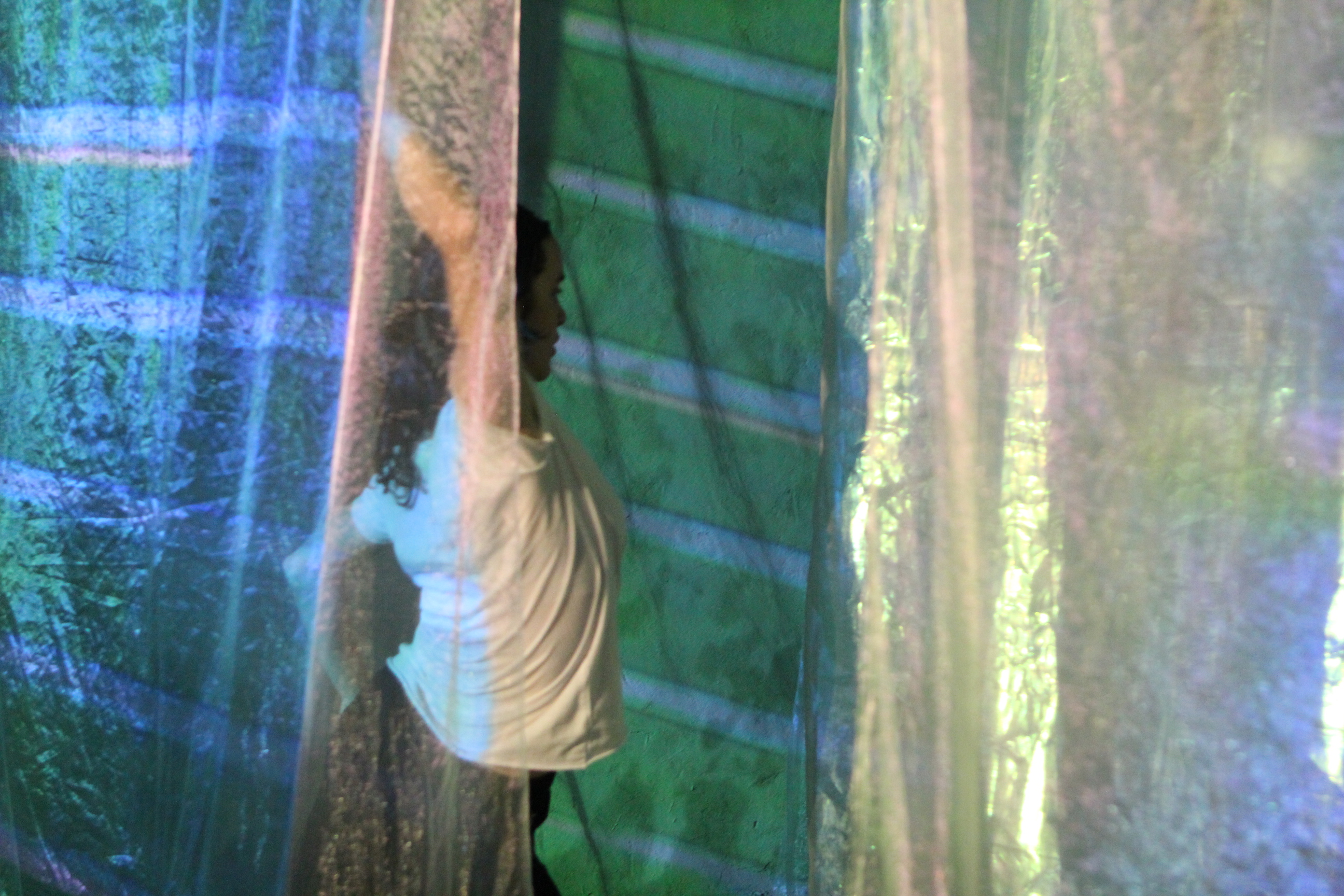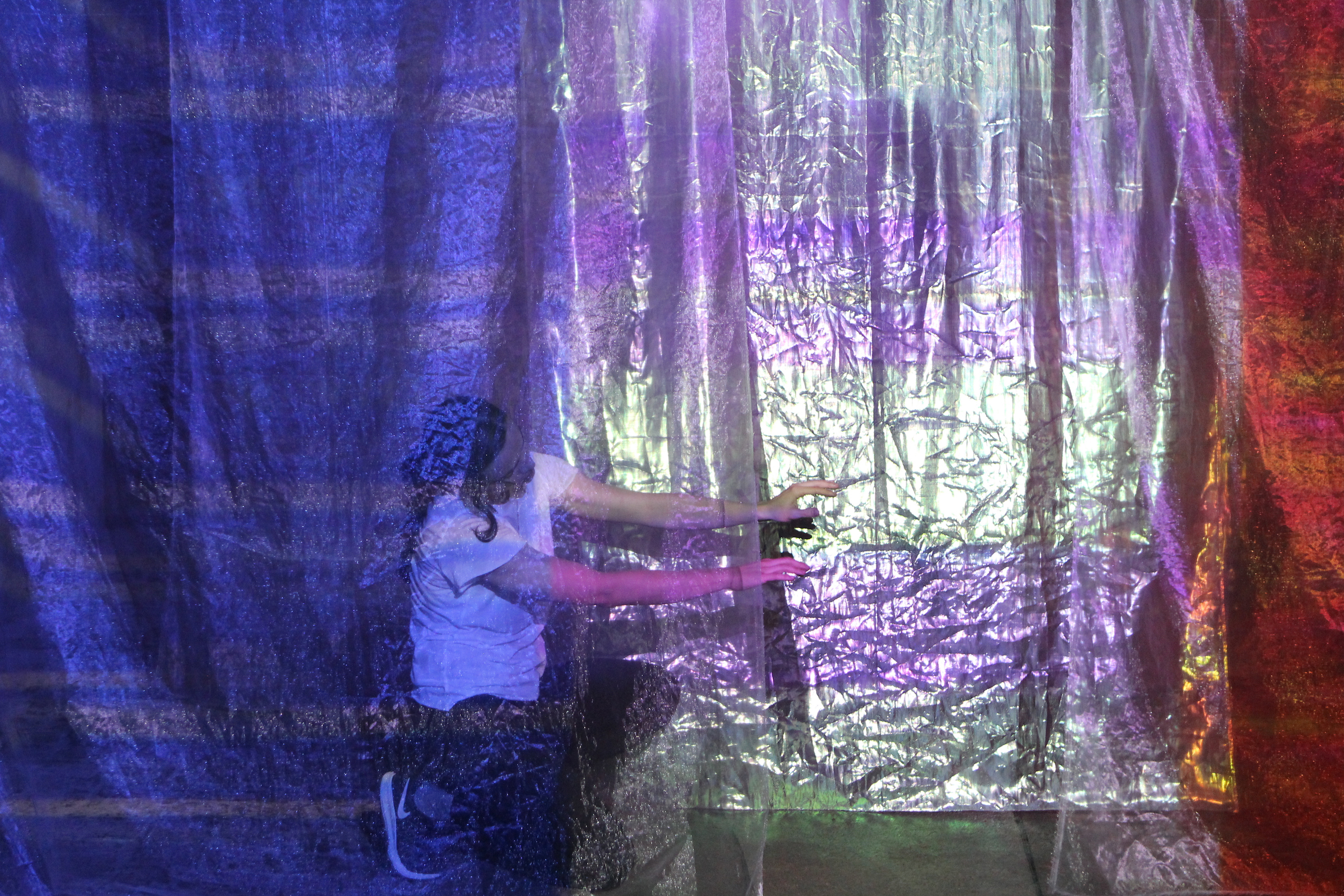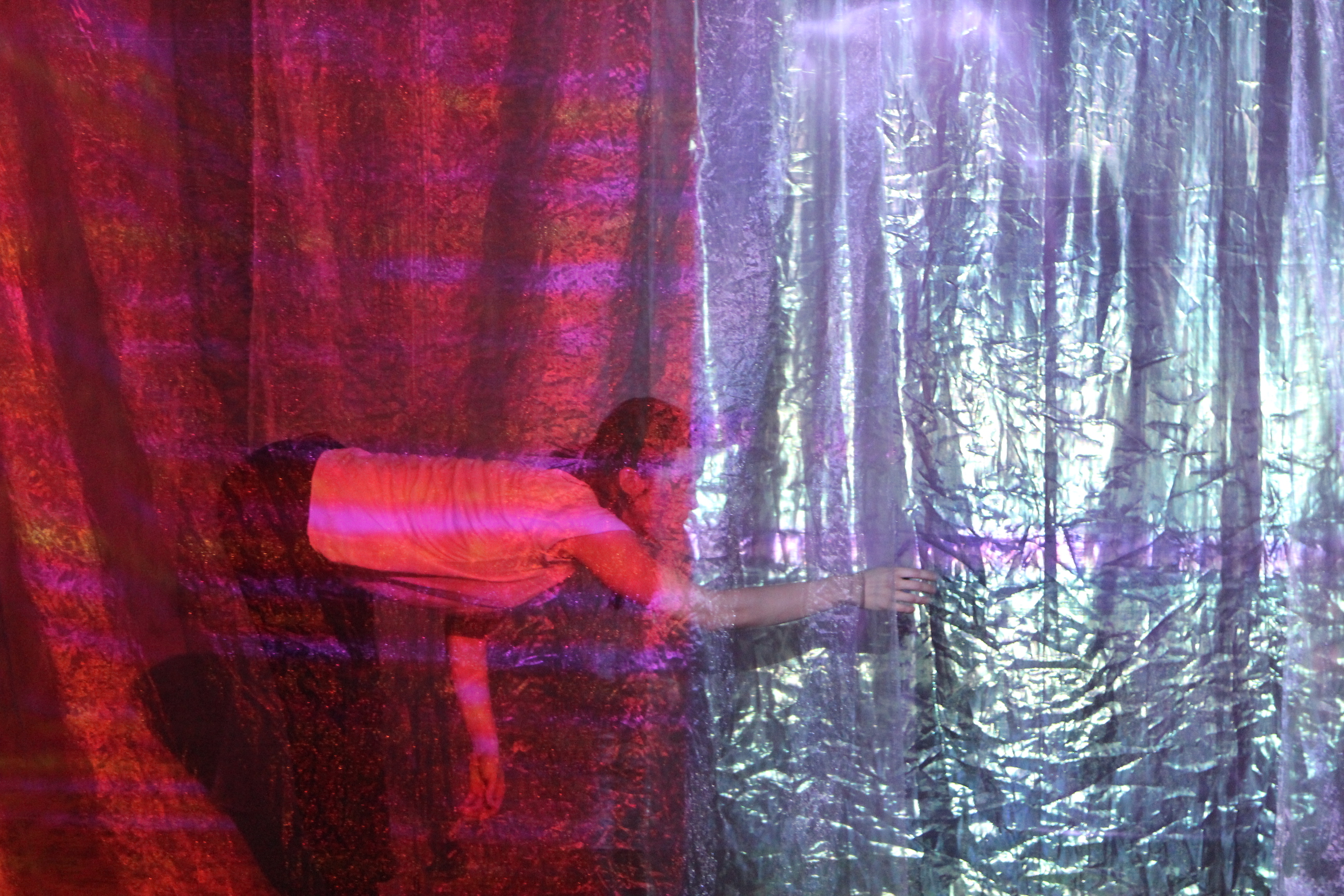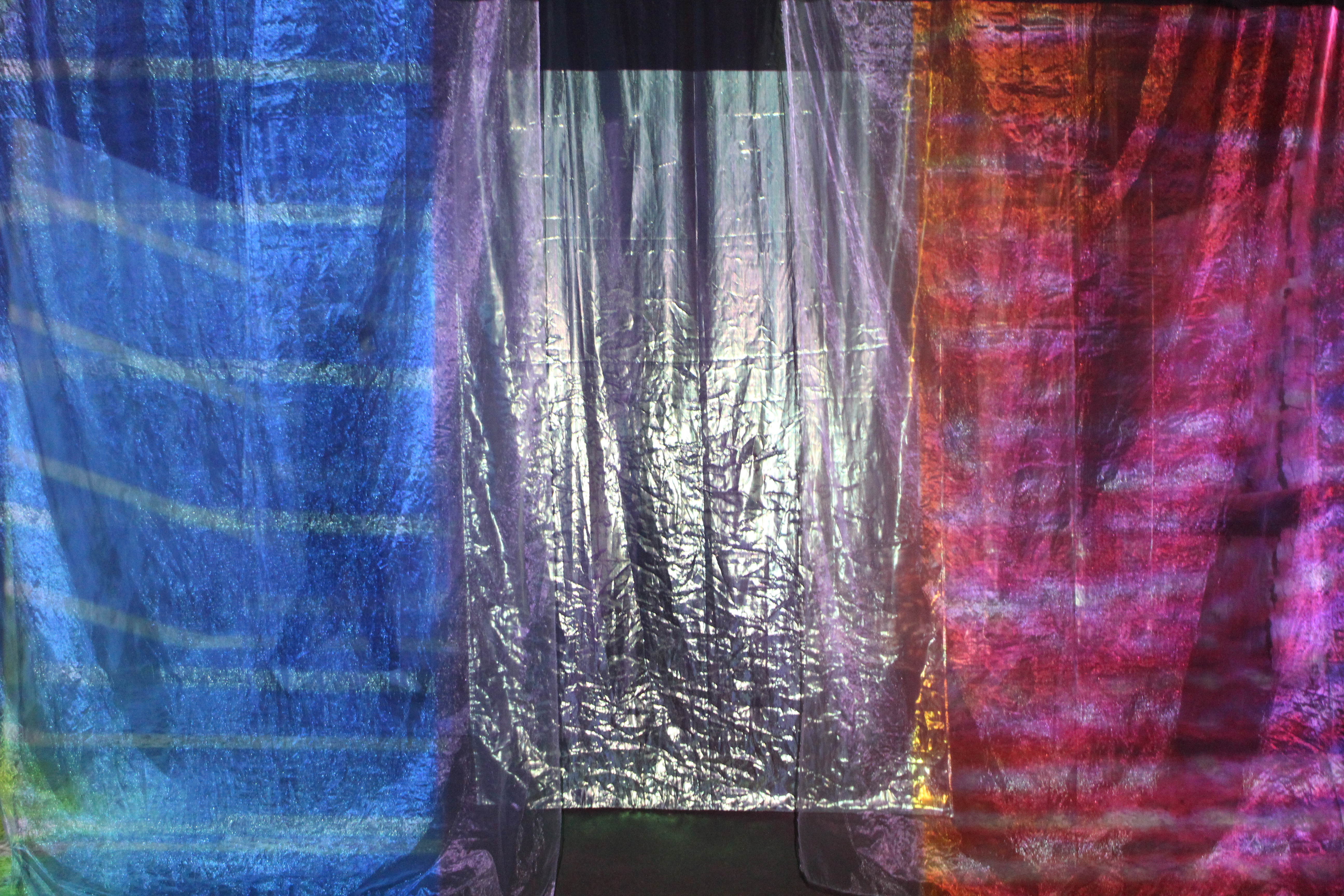 Artist: Sara Bonaventura
Performer: Annamaria Ajmone
Sound: Caterina Barbieri
Co-production: Signal Culture
Curator: Ester Grossi for Adiacenze