INNESTI
19′ 59", color, 16/9, HD, 2016
Directed by Sara Bonaventura
Traces of the performance Innesti, by Annamaria Ajmone, at the Institut Culturel Italien in Paris. I was invited by the project manager Giulia Basaglia. This short was then presented in Glasgow and Edinburgh, during the Movers and Makers Screendance Salon, organized by Bodysurf Scotland and moderated by curator Gitta Wigro; Italian Premiere at Lago Film Fest, World Premiere at São Carlos Videodance Festival.
As a director I tried not to get out of the subject of the choreography, which was a re-reading of this monumental space, I edited these fragments of the past, thinking of what is lost of a performative nowness. When getting inside this ancient building in Saint Germain de Près, I was thinking of Marguerite Duras, more the director than the writer. She was there somehow, always in my peripheral view. ("Toute vie est une perte" M.Duras). I interpolated this documentation with other takes filmed in less evocative and anonymous places in Paris, mostly the Petit Ceinture, an abandoned railways that once surrounded the city, as metaphor of a closed time based and site specific action, that might remain open in a different signifier, in the cinema elsewhere. It is a symbol of off frame, left over landscape. Gilles Clément's Third Landscape. My counterpoint to the Hotel de Galliffet.
Featured On/Screenings:
MIVA – Festival Internacional Multidisciplinario, Quito (EC), 2016
MIVSC – São Carlos Videodance Festival, São Carlos – São Paulo (BR), 2016
Lago Film Fest, Revine Lago – Treviso (IT), 2016
Movers and Makers, CCA, Glasgow (UK), 2016
Movers and Makers, Out of the blue, Edinburgh (UK), 2016
FIRST ACT (00'00'' – 04'10'') 
These interpolations are movies quotes, voice over from Godard. They have been embedded for their acusmatic meaning, before a conceptual one. Alphaville came into my mind when seeing the beginning of the performance. It is a b/w film where a lot of lights are switched on and off as a metaphor of cinema, of its basic elements; this piece is a quotation in the movie itself, by Paul Eluard, Capitale de la douleur, where Capital stands for Paris. The second movie is Femme Mariée, moments where Godard turns to celluloid negatives (meta-cinema, with an inversion of chiaroscuro) and a sequence with female bodies's close up and voice off, a fragmented vision, abstract but powerful still today.
SECOND ACT (04'10''- 13'33'') 
Interpolations of original voice over, acted by a french native speaker (merci Anne Claire); my own thoughts about frame/framing/gaze, pondering over mediation, distance and proximity of a gaze, on body objectified through lens based media. I let myself been inspired by Anna's considering space as build up by the thinking of the person who experienced it. Frame is a structure, a border as a framework but also a cinema frame, container and content; seeing and being seen, if we extend it to visibility field. There are actual records of the performance, in b/w and on screen sound, and others, not fixed and closer, taken the day after, where my digressive thoughts are juxtaposed a bit alienating. The purpose was to problematize an idea of filming a performance, which is a rather literal fact, asking myself: can I do more than document it?
What kind of interpretation can I imply, still anchored to it? 

THIRD ACT (13'33'' – 19'59'') 
Interpolations of images, inspired by the building structure of the conference hall, a space characterized by symmetry, between mirrors and columns and by Heidegger quoted by Anna, "a boundary is not that at which something stops but … the boundary is that from which something begins its presencing". There are references to a couple of specular locations we had been those days:
Jardin de Plantes, suggested by Anna, a place where she was spending some quality time when not rehearsing, that from an ecological standpoint means care, between vulnerability and possibility; and then the Gèode at Parc de la Villette, an OMNIMAX cinema, a visual reference to a memory of my own childhood, probably initiatory of my interest in cinema.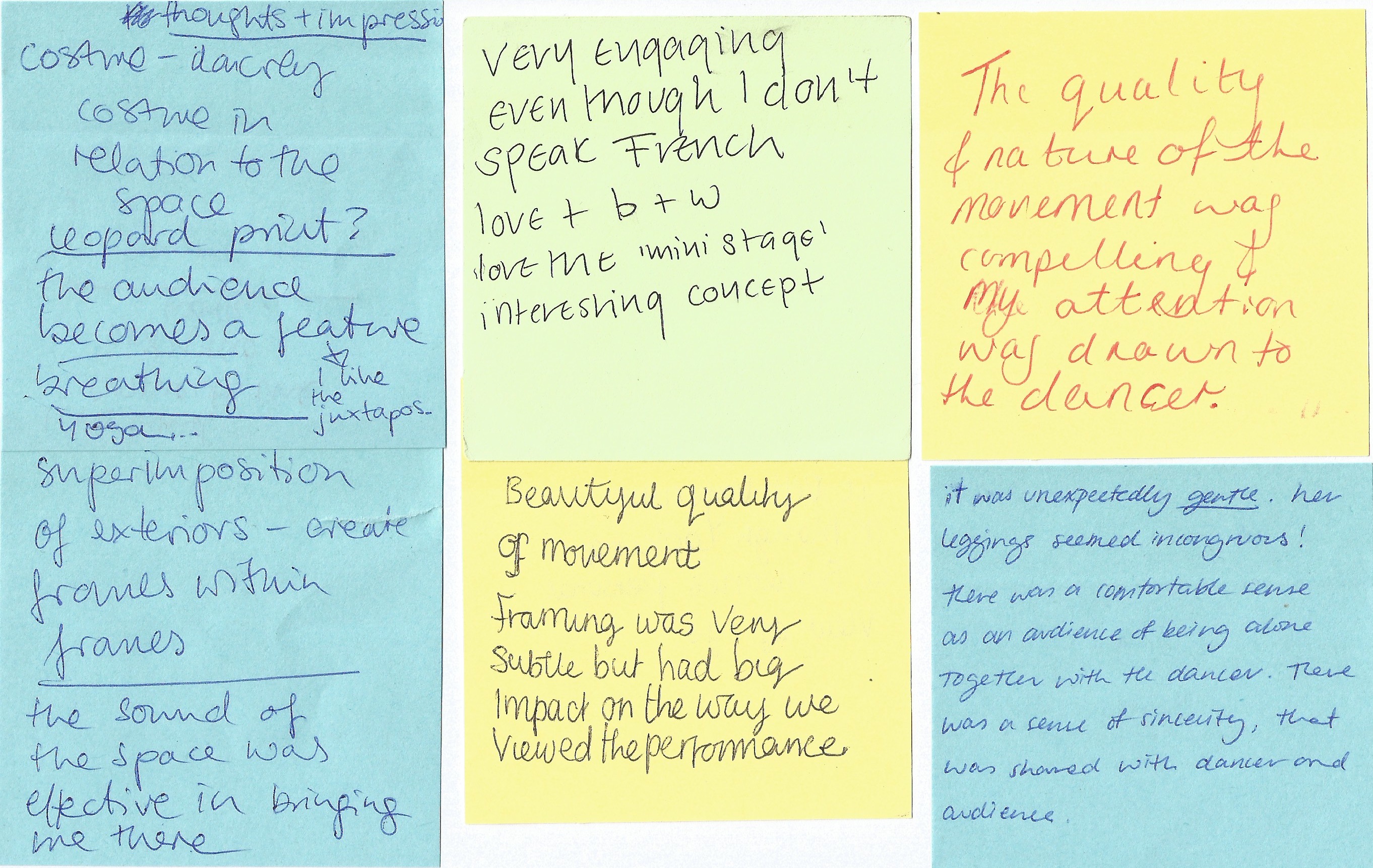 Some feedbacks from the public during the Screendance Salon in Scotland