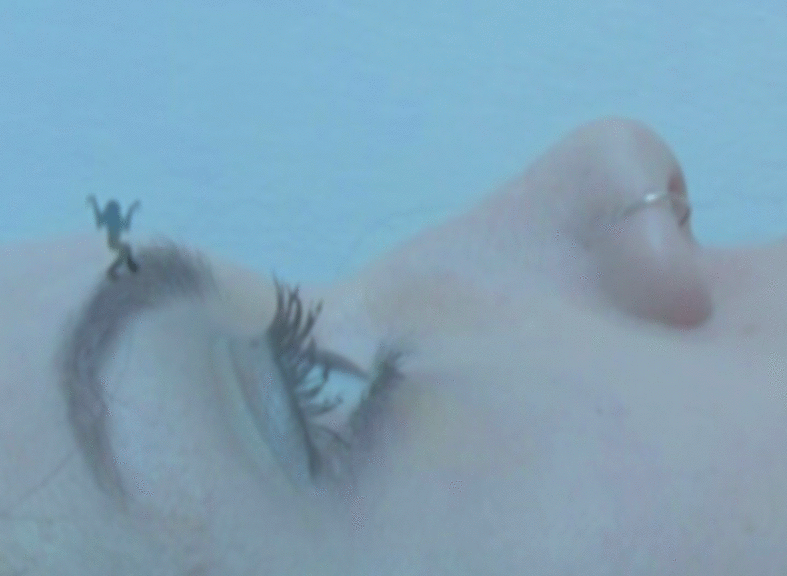 MOONBOW THIEF
4′ 46", color, 4/3, cut out stop motion + VHS and Super8 footage, 2010
Directed by Sara Bonaventura
"And behind the Warrior, bristling from the formidable cosmic tempest, is the Double who struts about,
given up to the childishness of his schoolboy gibes, and who, roused by the repercussion of the turmoil,
moves unaware in the midst of spells of which he has understood nothing."
Artaud, On the Balinese Theatre, in The Theatre and Its Double
The question of language and its limits is at stake.
The overall carnivalesque tones are seeds for a new "polyphonic text" (Mikhail Bakhtin).
Since women are both absent (theoretically) and captive (historically), their history is unspoken.
The death of a speech could be the birth of a language: ero muto tumore (I was a dumb tumor).
It is not the thief's voice. It is an "essential palindrome" (Giorgio Agamben).
Sound: field recordings (Dolomites Carnival, Balinesian Barong and Kali dance)
Featured On/Screenings:
Lights in the storm, CRAC, centro di ricerca per le arti contemporanee, Lamezia – CZ (IT), 2017
OtherZine, Spring Issue 2016 n.30: MaTeRiAL cinema, San Francisco (US), 2016
Other Cinema [by Craig Baldwin] at ATA Gallery, San Francisco (US), 2015
Meta Cinema, Manipolatori di repertorio, Accademia di Belle Arti, Bologna (IT), 2015
ZERO Magazine, Meta Cinema – Festival delle audiovisioni ibridanti, (IT), 2015
Primary, Film Free and easy, Nottingham (UK), 2015
Anthology Film Archives, New York (US), 2015
[on line streaming of the screening at AFA here]
Artribune Tv (IT), 2015
Artribune Magazine (IT), 2015
Rapporto Confidenziale Magazine (IT), 2015
roBOt BA, Usina del Arte, Buenos Aires (AR), 2015
Spazio Paraggi, Treviso, (IT), 2015
Spazio Barnum, Bologna, (IT), 2014
Studio QRZ, Udine, (IT), 2014
Balkanima, Belgrade, (RS), 2011
LFF, Lago Film Fest, Revine Lago (IT), 2011